27 Aug 2015
ECUC FINAL CONFERENCE ''PAVING THE WAY TO HIGHER COMPATIBILITY OF EDDY-CURRENT BRAKE IN EUROPE'', HELD ON 27 AUGUST 2015 IN VIENNA
ECUC Final Conference, jointly organised by UNIFE, Knorr-Bremse and CEIT, was held at the Marriott Hotel in Vienna on 27 August 2015. The event gathered 35 participants coming from the broader European rail community.
During the morning session, ECUC partners (CEIT, DB, Network Rail, Alstom, Knorr-Bremse, Frauscher, SNCF and UNIFE) presented the main results achieved over the 36 months of the project. Dr Daniel Valderas, ECUC Project Coordinator, welcomed the participants and introduced the main objectives of ECUC.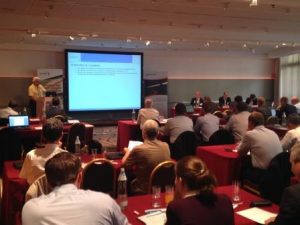 Dr Valderas expressed satisfaction in having so many European experts attending the Final Conference and stated, ''this event demonstrates the strong interest in Eddy-Current Brakes in Europe. Moreover, it is crucial to continue the very good work carried out during the last three years as Eddy-Current Brakes have a great deployment potential in Europe.''
Focus 1 presentations focused on Eddy-Current Brakes (ECB) description and characterisation. After an introduction to ECB, partners presented the ECB passive interaction with signalling devices and highlighted the main outcomes from the test campaign in Germany in terms of ECB emissions, temperature and signalling devices interference measurement set-up. Focus 2 shifted the focus on ECB modelling, dealing with ECB electromagnetic model for worst cases and interaction with axle counters and track temperature increase model due to ECB brake forces. The last session was dedicated to Project Recommendations in terms of ECB engineering guidelines and laboratory test set up for ECB, compatibility with signalling devices and guidelines for tracks.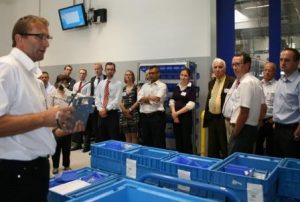 Ms Maya Petkova, Head of System Compatibility at Network Rail, stressed that, ''ECUC delivered highly valued recommendations regarding compatibility requirements with the infrastructure, to open the European market for wider deployment''.
In the afternoon participants visited the Knorr-Bremse facility in Mödling where Eddy-Current Brakes are developed and produced and the Final Conference ended with a dinner sponsored by Knorr-Bremse.
For more information on the Final Conference and ECUC please visit the official website www.ecuc-project.eu or contact andrea.demadonna@unife.org / dvalderas@ceit.es.