25 Jun 2020
Henri Poupart-Lafarge to Succeed Sabrina Soussan as UNIFE Chair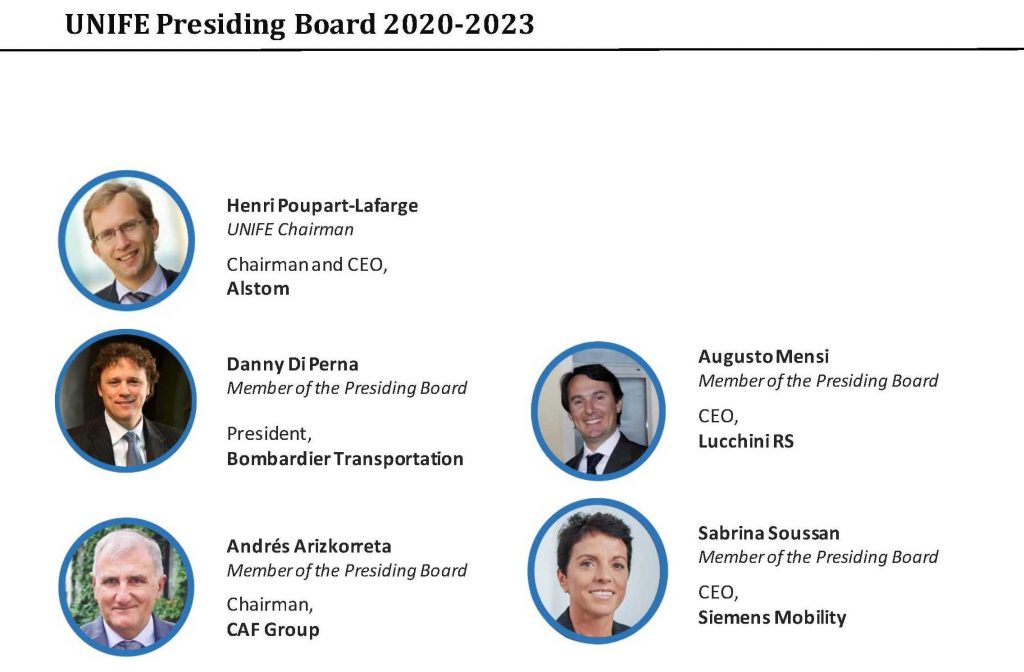 The UNIFE General Assembly, held remotely due to ongoing COVID-19 restrictions, has elected Henri Poupart-Lafarge, Chairman of the Board of Directors and Chief Executive Officer of Alstom, to serve as the new Chair of UNIFE.
Henri Poupart-Lafarge, Chairman and Chief Executive Officer of Alstom since 1 February 2016, will succeed Sabrina Soussan, Chief Executive Officer of Siemens Mobility, effective 25 June 2020 for a three-year, non-renewable mandate.
Upon his election, Henri Poupart-Lafarge stated: "I am extremely honoured to represent the rail industry at such a defining moment. Our industry will remain the backbone of the future of mobility, and has a tremendous role to play in the fight against climate change and Europe's economic recovery. I am looking forward to represent the rail industry and its interests on the eve of
2021, which will be the European Year of Rail."
UNIFE would like to thank Sabrina Soussan, outgoing UNIFE Chair and Chief Executive Officer of Siemens Mobility for her dedication during her 2017-2020 mandate marked by UNIFE's important advocacy campaigns in favour of EU investment for rail, global level-playing field and Shift2Rail 2. Sabrina Soussan will continue to represent Siemens Mobility on the UNIFE Presiding Board.
Outgoing UNIFE Chair Sabrina Soussan, commented: "I am looking back at three exciting years, during which the rail industry reaffirmed not only its essential contribution to reducing climate change, to creating value and jobs in Europe, but also to digital transformation of transport. Three years during which this industry clearly articulated its beliefs in fair and open competition and stressed the conditions to preserve it within and outside Europe.
These years have reaffirmed what I always knew: this is a great, innovative and future-oriented industry. It will not just come out strong from the current crisis; it will be the decisive factor in creating sustainable, safe and seamless mobility in Europe. A warm thank you to all of you for your trust and support."
After thanking the membership for their participation, Philippe Citroën, Director General of UNIFE, noted: "I would like to congratulate Henri Poupart-Lafarge for his new role and very much look forward to working with him. I would also like to thank Sabrina Soussan, on behalf of the European rail supply industry, for her commitment during these past three years of challenges and opportunities".
To access the entire list of UNIFE Presiding Board members, click here.