02 Apr 2015
OSIRIS PROJECT REPORTS RESULTS AT ITS FINAL CONFERENCE
OSIRIS held its final conference on 31 March at the Solvay Library in Brussels which was attended by more than 90 participants from across Europe. Jointly organised by UITP and UNIFE, the event was the occasion for the project partners to present the final results and discuss the exploitation potential of the main outcomes with external participants. UNIFE was the coordinator of the 3 year FP7 research project which started in January 2012 with a budget of around €7 million.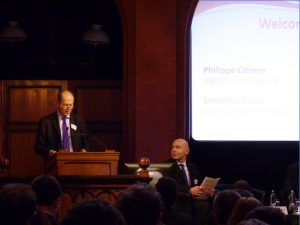 OSIRIS developed measures to achieve a 10% reduction of the overall energy consumption (compared to current levels) in European urban rail systems by 2020. Philippe Citroën, UNIFE Director-General, highlighted the importance of having industry, operators and research centres collaborate to achieve concrete results. Mr. Citroen explained that energy-efficiency is a key innovation area for the promotion of green mobility in Europe, especially as urban areas continue to expand. For this reason, improving urban transport is critical to a successful European transport policy.
The morning session consisted of several presentations and discussions on the main achievements, which included: operational solutions for reduced energy consumption, a holistic tool for energy simulation and optimisation, and standardised duty cycles. Of particular note were a number of new technologies developed by some UNIFE members which took into account individual urban operators' needs and specific environments where they were tested. Alstom developed an innovative auxiliary converter for metro train which was tested in cooperation with ATM in Milan; CAF deployed a new concept of onboard Energy Storage System (ESS) for tram in Vitoria-Gasteiz; and Ansaldo STS produced a novel cooling system for technical rooms using underground water and tested it with the support of ATAC in the Rome metro.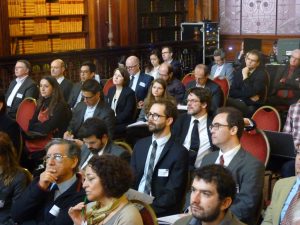 Three workshops were held in the afternoon where stakeholders had the opportunity to interact with the partners of OSIRIS. The first session focused on duty cycles and service profiles and partners discussed common and practical ways to approach real use. In the second workshop, the participants shared their view on return of investment as a key driver for operators to invest in energy-saving technology. In the final session, OSIRIS partners presented a methodology to evaluate energy saving potential, highlighting the benefit of technical KPIs and databases.
The OSIRIS Technical Coordinator, Mr. Bruno Guillaumin, concluded the conference with a few remarks saying that an R&D project like OSIRIS is only the first step in the right direction. In fact, she stated, several of the outcomes will require further improvements in the future including the holistic tool, which will have to become a true asset available to operators and industry, and the need to bring the duty cycle/module method to the state of a European standard.
For more information on OSIRIS please contact the Project Coordinator at andrea.demadonna@unife.org visit www.osirisrail.eu.