01 Dec 2014
THE EUROPEAN COMMISSION, UNIFE AND CER HOST A SUCCESSFUL EUROPEAN RAIL FREIGHT DAYS EVENT
BRUSSELS—Organised by the European Commission, UNIFE, and CER, the European Rail Freight Days event, which took place on 27-28 November in Brussels, was a major success, gathering over 200 stakeholders from across the rail sector.
The new European Commissioner for Transport, Ms Violeta Bulc, opened the first day of the event and called for a larger role for Rail Freight in an integrated European transport system so that Europe can meet its ambitious target of reducing CO2 emissions by 60% by 2050.
Ms. Bulc pointed out that there are still too many technical and regulatory barriers in place in Europe that affect both operators and the rail industry. Among them, the authorisation procedure for locomotives and wagons set to operate across borders takes too much time and is overly expensive. For this reason, the Commissioner added, the EC is undertaking incisive actions to achieve the completion of a Single European Rail Area, including freight.
Ms. Bulc then expressed her strong support of the work being currently carried out by the EC on ERTMS to deliver a sound, reliable and stable technical system, thereby supporting a fair competitive environment for railway operators.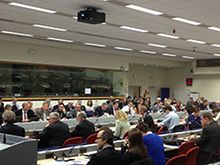 UNIFE Director-General, Philippe Citroën, welcomed the statements made by Ms. Bulc and expressed the industry's appreciation towards the current EC initiatives in the areas of interoperability and simplification of authorisation for new rolling stock. Mr. Citroën also urged the European Institutions to start trialogues to achieve a rapid approval of the Technical Pillar of the Fourth Railway Package.
Mr. Citroën then highlighted the key role of Shift2Rail in enhancing the competitiveness of the European Rail industry by accelerating the integration of new and cutting-edge technologies into innovative rail product solutions. The new Joint Undertaking will support the freight sector with a budget of €80 Million, he added, which will secure and strengthen rail's market share in current shipping and logistics markets while at the same time enabling it to enter into new or lost market segments.