16 Jan 2015
UNIFE PARTICIPATES IN THE 94TH TRANSPORT RESEARCH BOARD (TRB) ANNUAL MEETING IN WASHINGTON
Washington, DC—A delegation from UNIFE participated in the 2015 Transport Research Board Annual Meeting in Washington DC from 11-15 January, 2015. The Transportation Research Board is a division of the US National Research Council and promotes transportation innovation through research. The TRB Annual meeting which is held every January, attracts around 12,000 transportation professionals every year around a robust programme of presentations of ongoing research, high-level speakers, and committee meetings bringing together academics, transport officials, and industry leaders.
UNIFE had a stand in the exhibition hall and presented UNIFE and our activities to the TRB Standing Committee on International Cooperation, the TRB Rail Group Executive Board, and the TRB Freight Rail Transportation Committee. The event was also attended by nearly a dozen officials from DG-MOVE and DG-Research, and UNIFE attended the European Commission-hosted reception for the outgoing Executive Director of the TRB, Bob Skinner. US Secretary of Transportation, Anthony Foxx, addressed the Annual Meeting and participated in a dialogue on the future of transportation in the US. In responding to a question on the Administration's plans for further investment into passenger rail across the US, he explained that the Grow America Act would put US$19 Billion into the US rail system, provide the capital to build a passenger rail system that we need, but unfortunately there is no long term funding, which makes it really difficult to grow the passenger system as needed since funding for rail is year to year.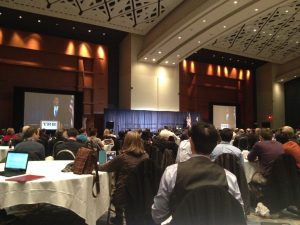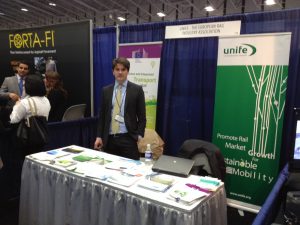 Alongside, the TRB Annual Meeting, UNIFE took advantage of being in Washington, DC to further our cooperation with American Public Transportation Association (following the UNIFE-APTA MoU of November 2013) to support the ongoing best-practice sharing and dialogue with between the ERA and the Federal Railroad Administration (based on the MoU between those two agencies). APTA held a meeting with the four parties (APTA, UNIFE, FRA, ERA) at their offices on 14 January.
For more information on UNIFE's participation in the TRB Annual Meeting please contact john.harcus@unife.org.