14 Jan 2015
UNIFE PRESENT AT THE GCC RAIL AND METRO CONFERENCE
A delegation from UNIFE accompanied by Richard Lockett, Head of the Cross Acceptance Unit at the ERA was present at the GCC Rail and Metro Conference held in Muscat from 11-12 January 2015. The event was organized by Ministry of Transport and Communications in Oman, in association with the Gulf Cooperation Council for the Arab States of the Gulf under the auspices of His Highness Sayyid Shihab Bin Tariq Al Said, Advisor of His Majesty the Sultan.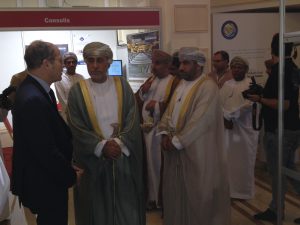 The event was headlined by about 500 high-ranking rail and metro specialists, as well as supporting public and private sectors from more than 25 countries. A total of 17 worksheets were presented during the conference, addressing the development of rail and metro projects in the GCC, in addition to the numerous opportunities available for the private sector to localize some of the supporting industries, and the challenges and opportunities available to improve and train GCC skills to sustain the sector in the GCC.
Discussions were held between high-ranking officials to consider the many strategies related to the development of the Transport and Communications sector in the GCC, and achieve integration between member countries throughout the rail network. Talks included also discussions on investments in the sector, partnership between public and private sectors, and the transport and communication sector's role in intra-regional trade and logistic services.
During the conference, Philippe Citroën presented UNIFE during the Action Plan to Realise Sustainable Development session. Mr. Citroën insisted on the necessity to have close links between the GCC and the ERA, mentioning the Single European Rail Area. He also highlighted that interoperability is a key factor for the GCC Railway Project and referred to ERTMS which could create a real interoperable signaling system in the GCC countries.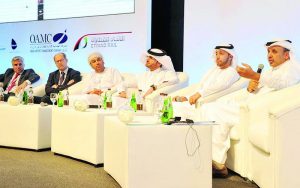 The GCC Rail and Metro Conference 2015 was headlined by high-ranking government officials from the GCC States' Ministries of Transport, Trade and Commerce, and Finance, alongside top executives from Etihad Rail, Saudi Railways Organization, Saudi Railway Company, Qatar Rail, and Oman Rail.
During the event UNIFE took the opportunity to meet with some of our member representatives in Middle East (Alstom, Voestalpine, CAF, TATA STEEL).
January 11
Oman rail project on the right track, vows Minister, Times of Oman
'Localisation of railways vital for long-term development', Times of Oman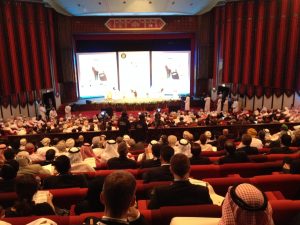 January 12
GCC plans integrated rail, metro projects, Times of Oman
Segment 2 of Oman Rail to cover 240km length, Oman Daily Observer
GCC railway to boost Oman's exports and foreign investment: Ithraa official, Times of Oman
Major 'centre of excellence' for railway sector to come up in Oman soon, Times of Oman
Contract for Sohar-Buraimi link this year, Oman Daily Observer
January 13
Conference recommends establishing GCC Sustainable Railway Development fund, Muscat Daily
GCC Railway to avoid Gulf Air mistakes, Oman Daily Observer
Officials work out strategies for rail network, Oman Daily Observer
GCC Rail and Metro Conference 2015 Recommendations- A Vision to Sustainable Development, Zawya